The Beauty and Warmth of Real Wood
The Durability, Efficiency, and Easy Maintenance of Vinyl
Now in the Same Window.
Wood+Vinyl Hybrid Windows from Windows Plus.
The Best of Both Worlds
Get the beauty of pre-finished wood interiors with the easy maintenance of vinyl windows all in one package.  Introducing our revolutionary new Aeris™ Wood+Vinyl Hybrid Windows.  
Our wood-clad vinyl windows come pre-finished with a stained or painted wood interior, offering the warmth and elegance that you can only get with real wood.  The vinyl exterior offers all of the advantages of a maintenance-free, energy-efficient window.  This unique system was designed specifically for homeowners who want the best wood and vinyl replacement windows, and who value the warmth and beauty of wood that can be stained, sanded and re-stained or painted.
The insulated framing on our Aeris™ window interiors offers superior construction to wood replacement windows, and provides you with the comfort of knowing you have one of the most durable, beautiful, and energy-efficient home replacement window systems available today.
Features of our Aeris™ Wood+Vinyl Windows
Our Aeris™ home replacement windows feature pre-finished, real oak, cherry, and maple wood interiors and maintenance-free vinyl exteriors.  They are engineered and designed to maximize both beauty and performance.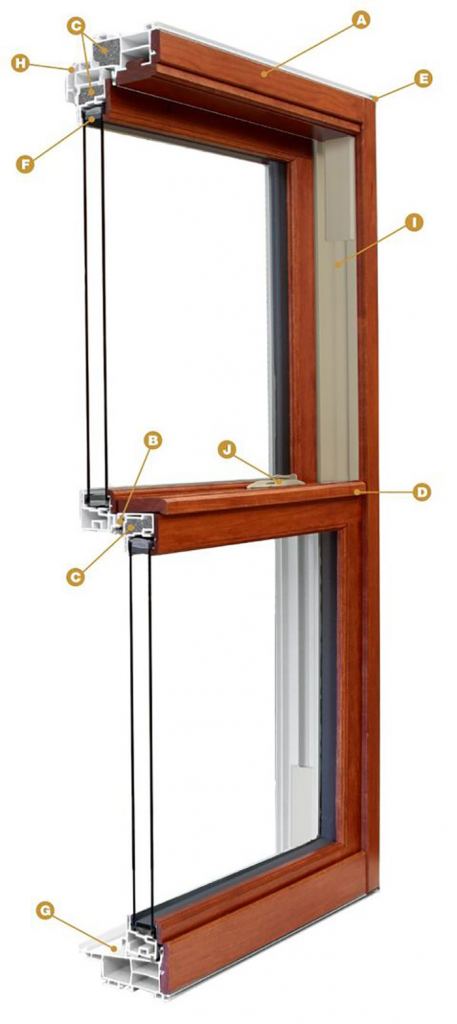 A: Pre-Finished Real Oak, Cherry or Maple Wood
Applied to sash and frame interior for the rich warm look of an all wood window. 
B: Integral Interlock
Forms a tight weather seal at the meeting rail.
C: Neopor® Insulation
For additional energy efficiency.
D: Wood Lift at Lock Rail
Typical of traditional wood windows.
E: Welded Sash and Frame
Far superior in strength when compared to a mechanically built system.
F: ComforTech Glass
High performance Low-E coating with argon gas.  Available in both double and triple pane glass.
G: Fusion Welded Sloped Sill
Aids in water drainage.  Lower profile and cleaner system that pocket still vinyl windows.
I: Jamb Pocket Colors
Coordinated with paint or stain colors.
J: Two Integrated DualTech® Sweep Locks and Tilt Latches
Windows less than 19.5″ have a single sculptured sweep lock and low profile tilt latches.
Aeris™ Wood+Vinyl Window Styles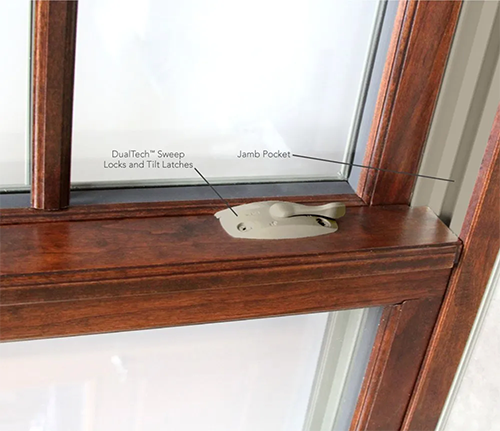 Our double hung windows bring comfort and beauty with interior stain & paint options.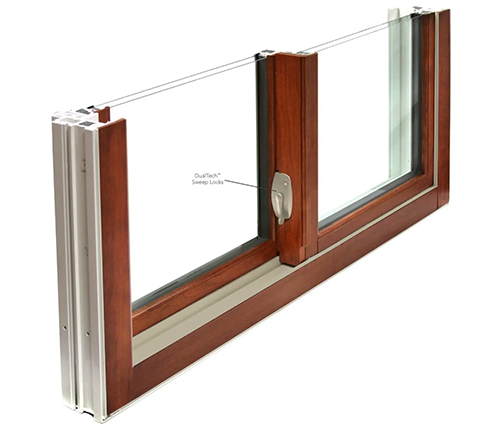 Horizontal Slider windows are engineered to provide you with ultimate durability and ventilation.
Our Casement windows offer you design and function with extraordinary beauty and energy efficiency.
Our beautiful awning windows offer a secure multi-point locking mechanism.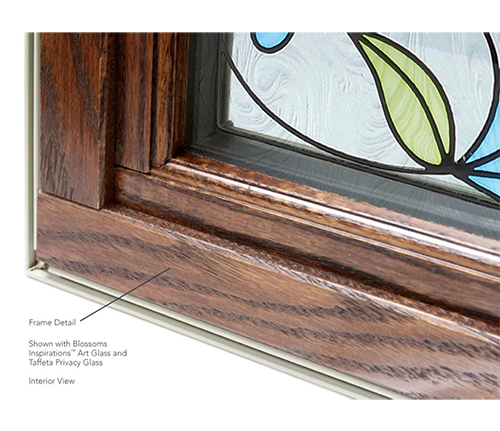 Picture windows provide ample light, an unimpeded view, plus the benefits of home energy savings.
Architectural shapes give you the opportunity to express your style.
Aeris™ Wood+Vinyl Window Finishes
Interior Cherry Wood Stains
Interior Maple Wood Stains
Interior Painted Finishes
Aeris™ Wood+Vinyl Gallery
Aeris™ Wood+Vinyl Brochures & Warranties
Windows Plus
7040 Main St.
Cincinnati, OH 45244
(513) 272-2222
(859) 272-2222
Showroom & Office Hours:
Monday-Friday  8:00 am – 5:00 pm
Saturday  9:00 am – 3:00 pm
2022 Consumers' Choice® Award Winner
The Best Window & Door Company in Cincinnati
Find a Windows Plus Home Near You!