Introducing the Soft-Lite Elements Window: From the best replacement window company in Cincinnati
Our Soft-Lite Elements Window:
Celebrating 10 Years of Triple-Pane
Over the years, many things have changed.  And the window industry is no different. The same old double-pane window that used to be eligible for ENERGY STAR tax credits no longer will.  Companies are scrambling to figure out triple-pane options for their windows, in order to meet the new 2023 ENERGY STAR certifications and tax credits. 
But we've been ahead of the curve.
Windows Plus has been offering a free triple-pane upgrade on our award-winning Elements window line for ten years.  Our standard triple-pane Elements window has an average U-Factor of 0.19.  Which means it already meets and exceeds the new 2023 ENERGY STAR "Most Efficient" criteria–now required to be eligible for tax credits.
The industry is changing.  Window companies are now experimenting with using unproven triple-pane glass in windows that were designed only for double-pane.  But to support triple-pane glass, you need a stronger window that was designed for triple-pane.  And our Elements window has the highest strength rating of any window in Cincinnati–engineered from the ground-up to be a triple-pane window.
(Need a lower-cost double-pane window?  Check out our Barrington window line!)

Home of the Free Triple Pane Upgrade
Unbeatable Energy Efficiency.
Unsurpassed Overall Performance.
Unparalleled Quality.
Unequaled Beauty.
Undeniably… the Best.
Our 
Soft-Lite
windows are manufactured right here in Ohio, and offer a lifetime transferrable warranty. Soft-Lite
is one of the leading manufacturers in replacement windows due to excellence in security, energy efficiency and beauty. And Soft-Lite is the only vinyl window manufacturer in the nation to be awarded the 
2023 Energy Star® Partner of the Year
 Award.  Combined with our 
free upgrade to triple pane glass
 in our Elements windows, we now offer the most efficient windows at the best price.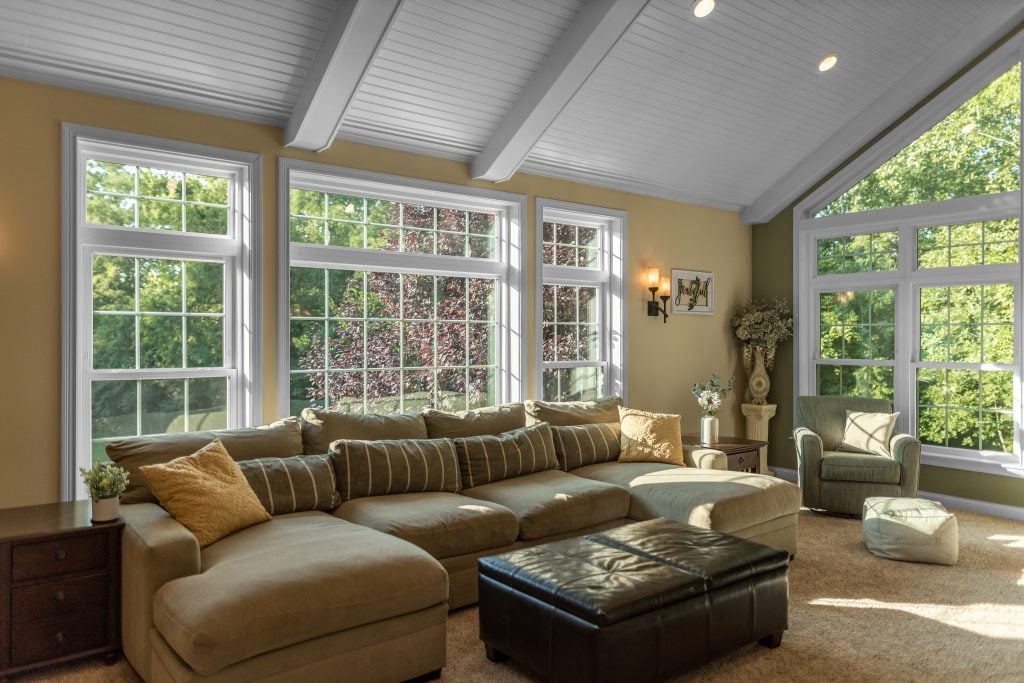 0% Interest Financing Available!
The Soft-Lite Elements Window. Triple pane glass for the cost of double pane.
There is no window available in Cincinnati that can beat the Elements vinyl replacement window.  The Elements window has been designed to excel in beauty, durability, and energy efficiency.  Our Elements windows have foam-filled insulation around the entire frame and sash of each window, for superior energy efficiency.  And now that Windows Plus offers a free upgrade to triple pane Ultra-S Glass all year round, the competition doesn't come close.
But don't take our word for it.  We invite you to compare our standard triple pane Ultra-S Glass Elements window to any other replacement window available.  Or download our 
Window Ratings Guide
 to compare our windows while you shop.
Standard Features of our Soft-Lite Elements Windows with Triple Pane Ultra-S Glass:
2023 ENERGY STAR® Certified
0.19 U-Factor Rating:  Meets the new 2023 ENERGY STAR Most Efficient certification (required for tax credits)
0.01 CFM Air Infiltration:  The lowest air-leakage rating of any window.

5.26 R-Value Rating

71 Condensation Resistance Rating

DP 70 Design Pressure:  Industry-leading strength rating

9.0 PSF Water Penetration

0.24 Solar Heat Gain Coefficient

Dura-sill™  Sloped Sill – No ugly pocket sills!

K-Beam™ Composite Sash Rail with Kevlar™ reinforcement

Fusion-Welded "Virgin" Vinyl:  Not made from recycled vinyl!

ComfortFoam™ top to bottom insulation within the vinyl frames and sashes.

Endura-Force™ 3/4″ Balance – Built for triple pane.

UltraSmart™ anti-microbial weatherstripping

Double low-e coated triple pane glass

Argon filled with Super Spacer®:  Proven to retain over 99% of argon gas after the first five years!

BetterVue® HD Screens standard

AAMA® Gold-Label certified window
Please note:  All energy-efficiency ratings provided by the National Fenestration Rating Council® (NFRC).  Architectural ratings provided by the American Architectural Manufacturers Association® (AAMA).
Want to Compare Window Ratings?
Want help understanding what these ratings mean?
The Barrington window from Soft-Lite. Exceptional value. Unbeatable price.
With Barrington Double Hung windows you receive the great quality at a great value.
This window is exceptionally easy to clean, which means less time on maintenance for you. 
Double-pane glass with low-e & argon gas

Fusion-welded frames & sashes
Lock & tilt latch

Constant-force balance system 
Energy efficient glass upgrades include "Solar" low-e glass

Between-the-glass mini blinds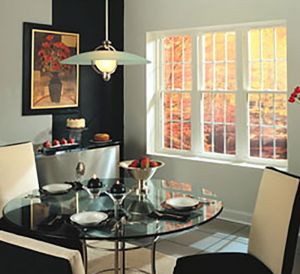 Replacement Windows from
Windows Plus
When you buy your new vinyl replacement windows from Windows Plus, you can rest assured you're getting the best brand of window in Cincinnati. But you're also getting the best service and installation in the area, too.
Windows Plus is a BBB Accredited business with an A+ rating. We have received the Angie's List® Super Service Award every year from 2009 through 2022.
Also, we are proud to announce that we have won the Consumers' Choice Award® for Business Excellence from 2015 through 2022 in two different categories: Windows and Doors. We are the only winner in either category in Cincinnati!
We offer all types of vinyl replacement windows, including:
Double Hung Windows
Sliding Windows
Casement & Awning Windows
Bow, Garden, & Bay Windows
Specialty & Custom Windows
Come see what makes Windows Plus the best.
2022 Consumers' Choice Award® Winner
Best Window & Door Company in Cincinnati
Windows Plus
7040 Main St.
Cincinnati, OH 45244
(513) 272-2222
(859) 272-2222
Showroom & Office Hours:
Monday-Friday  8:00 am – 5:00 pm
Saturday  9:00 am – 3:00 pm
2022 Consumers' Choice® Award Winner
The Best Window & Door Company in Cincinnati
Find a Windows Plus Home Near You!