ProVia Entry Doors in Cincinnati Ohio
Quality. Durability. And stunning beauty.
Windows Plus is proud to offer ProVia® entry doors and french doors, manufactured right here in Ohio.  ProVia® has been a high-quality manufacturer of entry doors for over 35 years. They have a reputation for providing a full range of products that provide beauty and style, along with the highest standards for energy efficiency and security. ProVia cares about their customers and this personal care extends to every detail of their exterior home products. You can be confident that you'll get the look you've always wanted with their selection of custom single entry doors and french doors.
Check out the brand new ProVia® Visualizer!  Design your new entry door right from your computer or iPad.  Use a sample background or even upload a photo of your house to see what your creation looks like on your own home.  
When it comes to your home's exterior doors, there are numerous aspects to consider to ensure you get exactly what you want. 
Design:  In terms of design you might want to consider which material (glass, wooden, fiberglass, steel), handle or doorknob and locking mechanism best suit your needs.  We offer both single entry doors and french doors.
Color: Choosing the right color is extremely important. It must reflect the style of your home. Also, whether or not you choose to go bold or classic, the color must compliment the color of your siding.
Energy efficiency: Selecting a door that seals off and reduces drafts not only makes you feel good about keeping money in the bank, but makes you feel good knowing you're doing your part to help save the environment. 
No matter which choices you make when selecting your entry door, you can count on Windows Plus to provide precision and quality in every project.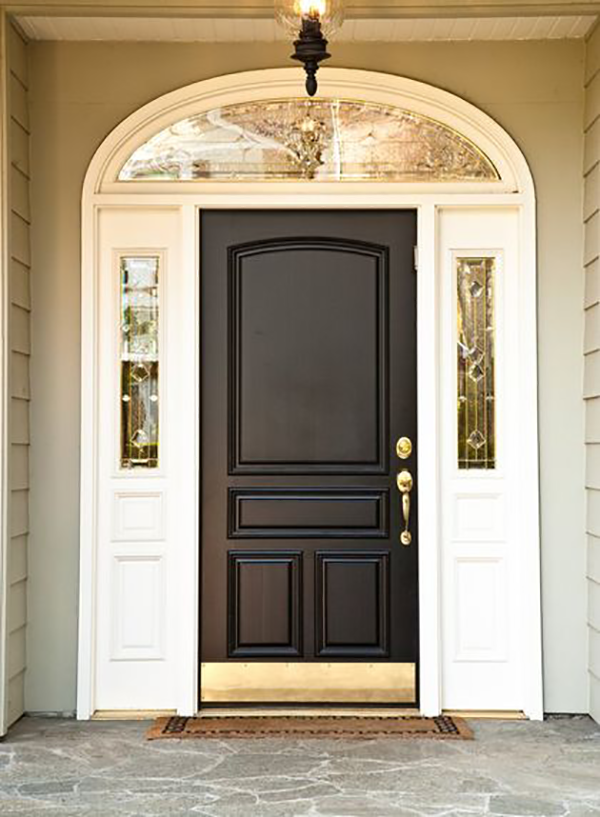 Entry Doors You Know You'll Love.
ProVia® offers a distinctive selection of fiberglass and steel entry doors which offer energy efficiency, security and style to your home's exterior. Learn more about ProVia's brands below. 
Embarq™
Embarq entry doors are one of the most energy efficient doors on the U.S. market. They provide a U-factor of 0.10 (the lowest heat conduction measurement for entry doors in the U.S.). They are also available in a variety of styles, glass options, finishes and custom sizes. 
Signet™ 
Offering a remarkably accurate appearance to real wood, Signet fiberglass entry doors offer superior strength and durability. Available in Cherry, Mahogany, Oak, Fir and Knotty Alder Series with 7 stain finishes per series. ProVia offers one of the best finish warranties in the industry.
Heritage™ 
With the classic look of woodgrain, these fiberglass doors provide strength with an artfully stained or painted finish. They can be customized for different heights up to 8 feet and are available as single or double doors in order to suit your style and needs.
Legacy™
Legacy Steel doors are stronger by design and are offered in Legacy Woodgrain Textured Steel or Smooth Steel. With high definition embossing you receive excellence in depth and artistic character ensuring your doors offer beauty and style to your home's exterior. 
Entry Doors from Windows Plus
When you buy your new entry door from Windows Plus, you know you're not just getting the best brand of door.  You're also getting the best service and installation in the area.
Windows Plus is a BBB Accredited business with an A+ rating.  We have received the Angie's List® Super Service Award every year from 2009 through 2019.
Also, we are proud to announce that we have won the Consumers' Choice Award® for Business Excellence in 2015, 2016, 2017, and 2019 in two different categories:  Windows and Doors.  We are the only winner in either category in Cincinnati!
Come see what makes Windows Plus the best.
2019 Consumers' Choice Award® Winner
Best Window & Door Company in Cincinnati
Windows Plus
7040 Main St.
Cincinnati, OH 45244
(513) 272-2222
(859) 272-2222
Showroom & Office Hours:
Monday-Friday  8:00 am – 5:00 pm
Saturday  9:00 am – 3:00 pm
2022 Consumers' Choice® Award Winner
The Best Window & Door Company in Cincinnati
Find a Windows Plus Home Near You!